April 10, 2010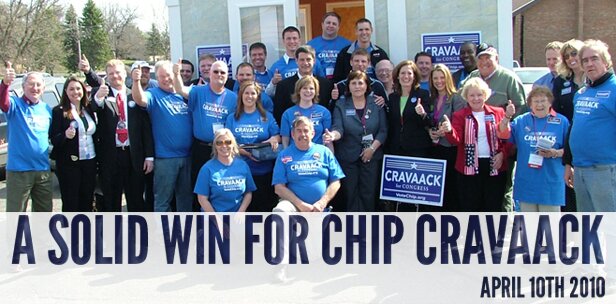 Chip Cravaack was humbled and honored to receive the Republican Endorsement to run against 35-year incumbent Jim Oberstar in Minnesota's 8th Congressional District on Saturday. Chip was endorsed on the first ballot with 68% of the vote, showing great solidarity and support for this phenomenal candidate.
We appreciate the help and support from all of the dedicated people who have sacrificed and worked to ensure Chip would move forward in the fight to take back the 8th District. We have had tremendous support from across the district and look forward to working with people so clearly dedicated to the cause of taking back our country, and returning to the common sense principles of our fore fathers.
It is time to hit the ground running. We are up to the challenge of forcing the retirement of our current congressman, and look forward to welcoming Chip as the next congressman from the 8th District of the great state of Minnesota. Let's take it to the 8th!