November 01, 2010
Day One: Kicking off the Final Countdown Tour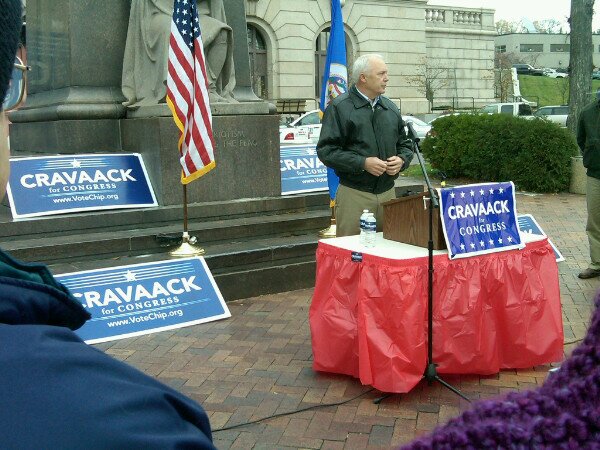 First stop of the tour in Duluth with a kick-off by Congressman Kline: Zero miles down, many to go!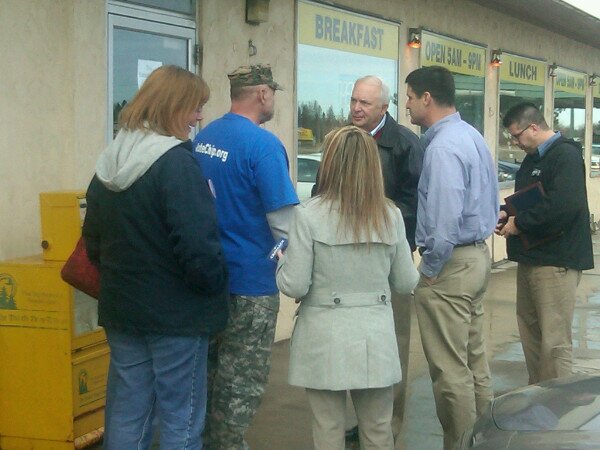 40 miles later, Chip is speaking with Cotton, MN residents on Stop 2 of 36.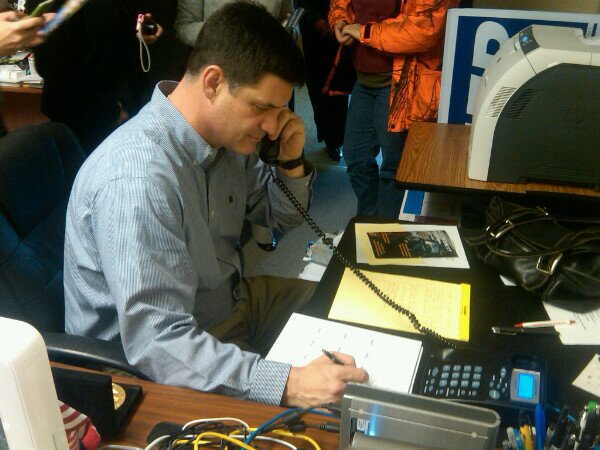 Chip joins in the phone-banking fun at the third stop of the tour in Virginia, MN, bringing the mileage to 66 miles so far. Help Chip out in these last crucial days by signing up here! http://votechip.org/GOTV
Stop #4: Benchwarmers in Tower, MN. About to break 100 with 93.7 miles total!
Fifth stop of the tour at the beautiful Grand Lodge in Ely, MN. Still going strong at 116 miles with the enthusiastic support of the folks in Ely, including a proud ex-Democrat for Chip!
Stop #6: Tofte County Park Boat Landing in Tofte, MN. This puts us at 202 miles!
Stop #7: Chip speaks with voters at the Silver Bowl Bowling Alley in Silver Bay, MN. Odometer reads 231 miles.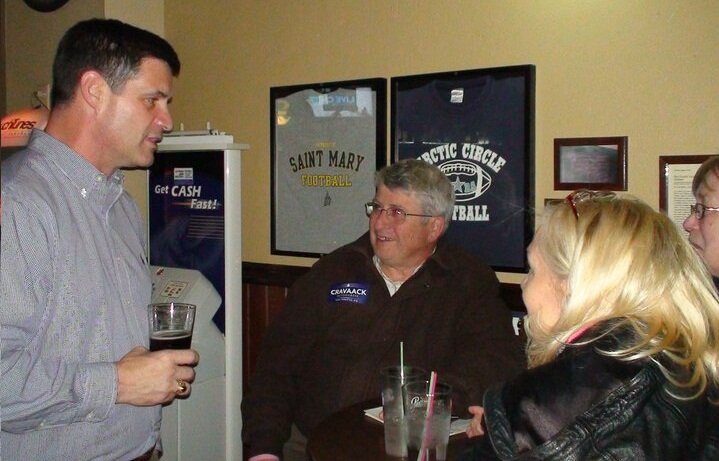 Chip speaks with voters in Dunnigan's Pub in Two Harbors, MN. 261 miles and eight stops later, this is a great end to an awesome first day of the tour!
Day Two: Halfway There!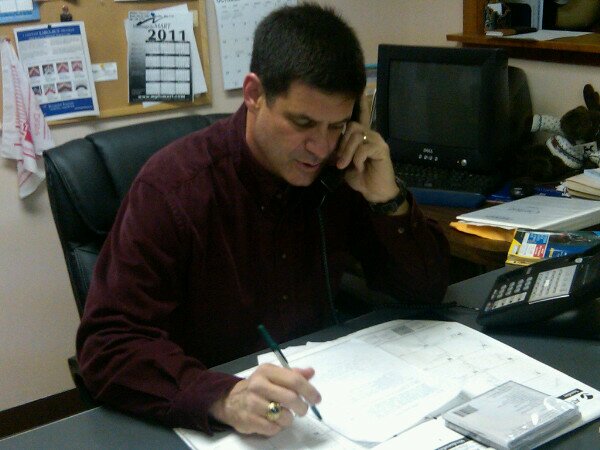 Chip makes the first call of the day in Cloquet, MN. At 9/36 stops total, this puts us a quarter of the way toward our goal!
Stop #10: Joe Jitter's Cafe in Moose Lake, MN. 26 miles for the day so far.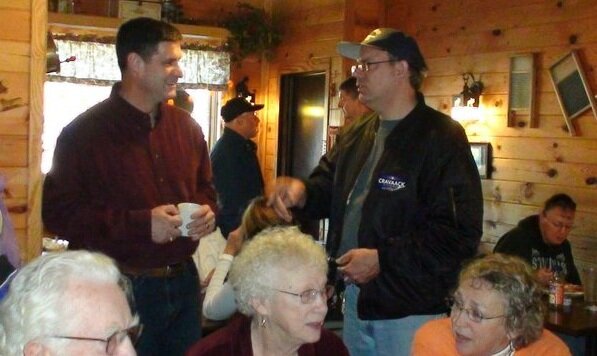 Chip meets with the local people of Sandstone inside Amy's Cafe at Stop #11. This makes 51 miles on the third stop of the second day.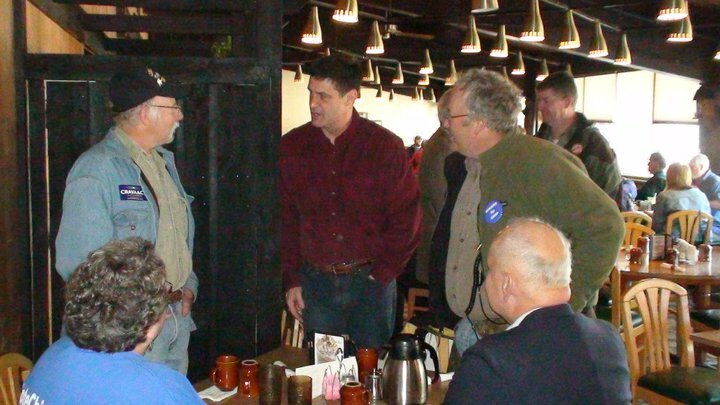 Chip speaks with concerned voters at Cassidy's Restaurant in Hinckley, MN. Stop number twelve makes 67 miles for the day.
Stop #13: Chubby's in Pine City, MN. Odometer reads: 81 miles.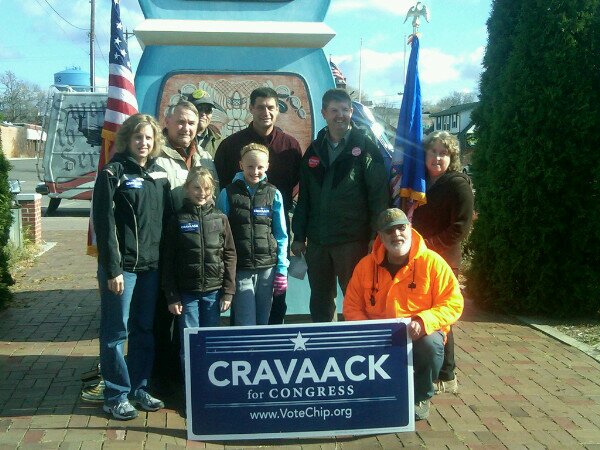 Stopped by the Mora Clock Tower on the 14th stop of the tour in Mora, MN. Chip, who has been endorsed by the National Federation of Independent Businesses, visited local businesses in the area including the Mora Bakery. 99 miles down!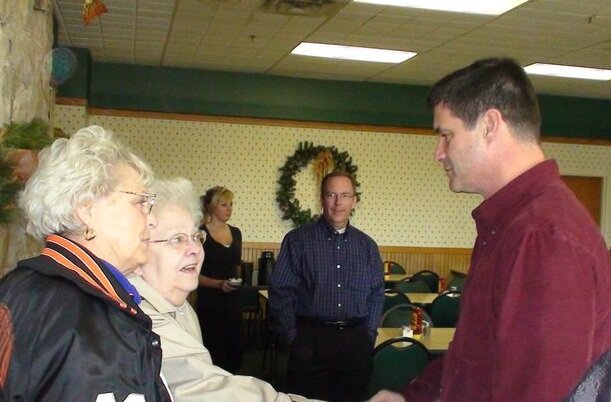 We continue to see overwhelming support on the 15th stop of the tour in Milaca, MN. Some of the volunteers here have already made over 200 calls today! Odometer: 120 miles.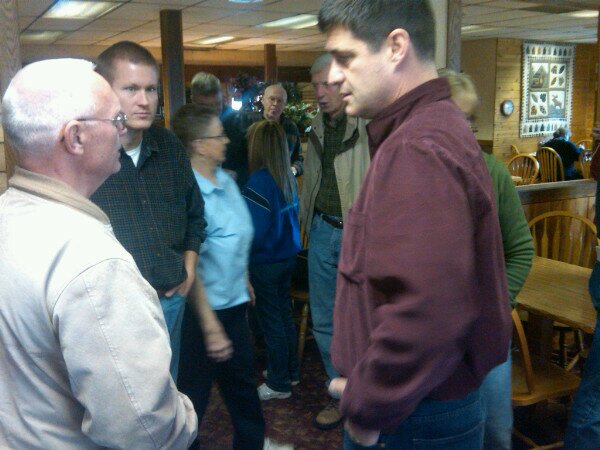 The people of Princeton, MN strongly support term limits. Chip agrees. For the day, this marks the eighth city visited and 134th mile travelled.
Stop # 17: On the second to last stop of the day Chip stops by the phone bank at RIC Property Management to rally volunteers in Cambridge, MN. Odometer: 159 miles.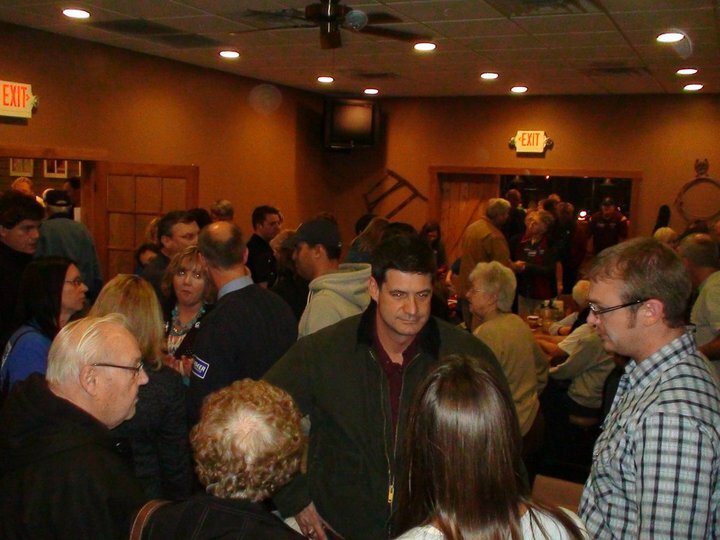 Another awesome end to a tour day with a huge turnout at the Little Falls Pizza Ranch! As the 18th stop this marks the halfway point in our tour- thanks for the great support so far, we look forward to meeting many more people in the last stops before the election! 261 miles from the first day, 243 miles from the second, plus 84 between days puts the tour at a total of 658 miles and 18 stops. November 2, here we come!!
Day Three: Enjoying Halloween With Great Turnouts!
Stop#19: Chip joins local residents in commencing day three with enthusiastic "Main-streeting" and sign waving in Wadena, MN!
Stop#20: More good old-fashioned "Main-streeting" in Sebeka, MN. 14 miles so far!
Stop#21: With 23 miles under our belt, we stop by the Cottage House Cafe to speak with citizens of Menagha, MN.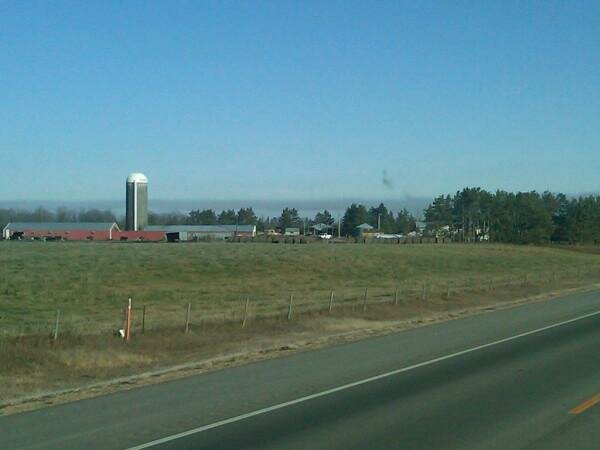 On the road to Park Rapids! Reminder: Chip Cravaack is farmer endorsed (MN Farm Bureau). The Schwarzwald Restaurant in Park Rapids makes it the 35th mile and fourth stop for the day!
Stop #23: Jimmy's Cafe in Walker, MN. Results of internal thumbs up/down poll in Walker: 7 Cravaack, 1 Oberstar. Odometer reads: 64 miles.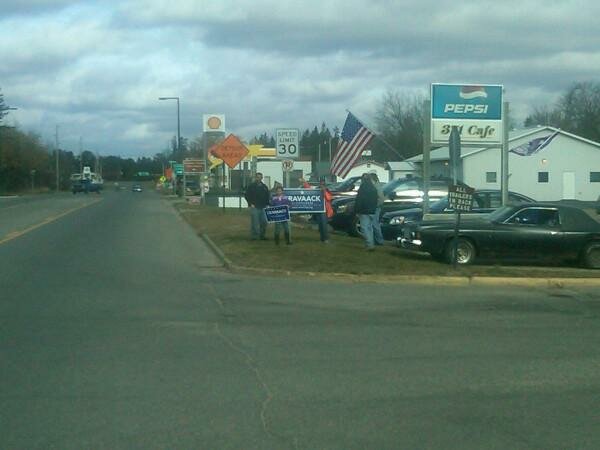 A welcoming committee heralds us into Cass Lake, MN! We stopped by the 371 Cafe for our 24th stop and 84th mile.
Chip wears black in honor of the original "blackduck" on the 25th stop of the tour in Blackduck, MN. Odometer reads: 128!
We get a hearty welcome driving into International Falls of Koochiching County. As the most northern part of the tour, this puts us as 26 stops and 215 miles. Full steam ahead!
Beautiful scene pulling into Orr, MN, stop number 27 of the 36/96 tour! Mile count: 269.
Stop #28: Enjoying Halloween at a packed house in Chisholm, MN (Oberstar's hometown). One stop left for the day and already 300 miles reached!
Spotted in Hibbing, MN, our last stop for Day 3. Overheard, "Never thought I'd see the day with so many Republicans in one place." Another packed house at Mitchell-Tappen Bed & Breakfast closes the third day with 316 miles and and 11 stops. Total count so far: 1028 miles and 29 stops. Only one day and 7 stops to go before election- don't forget to vote on November 2nd!
Day Four: 3…2…1…Blast Off!
Stop #30: Good Time Pizza in Bovey, MN. Independent Party candidate Tim Olson who endorsed Chip drops in!

In Grand Rapids, people are glad independent people, not career politicians are stepping up to run. Stop #31, 8 miles for the day.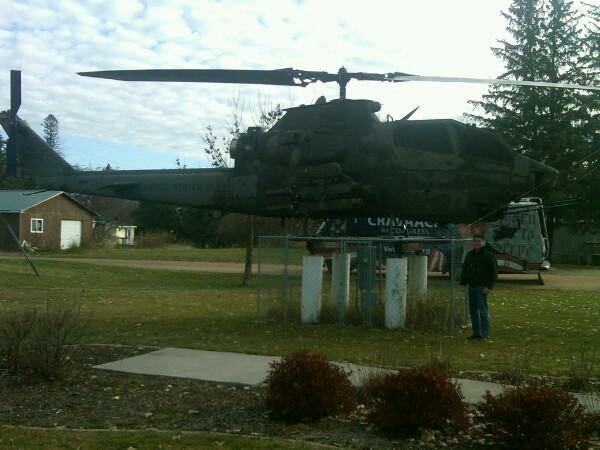 Chip stops for a moment to check out the Cobra helicoptor at a park in Hill City, MN, Stop #32. Quote of the day: "We all live within our means, the federal government needs to as well." Odometer: 26 miles.
Stop #4 for the day, #33 out of 36 for the tour: Birchwood Cafe in Aitkin, MN! Daily Odometer: 61 miles.